Bringing glow back to Texas Theater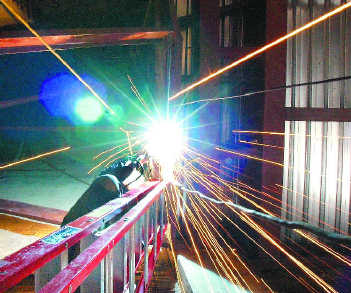 Restoration under way at Oak Cliff landmark

11:21 PM CST on Sunday, November 14, 2004
By FRANK TREJO / The Dallas Morning News
Even today, mention of the Texas Theater brings thoughts of a tragedy more than 40 years ago – the assassination of John F. Kennedy.
But generations of Dallas residents hold fond memories of the theater beyond the events of Nov. 22, 1963, when accused assassin Lee Harvey Oswald was captured there. For decades, it was the place to catch the latest Hollywood release, impress dates or watch Saturday morning Westerns.
The theater opened in 1931 and once was considered one of the state's finest. After the assassination, it fell onto hard times and closed in 1989. Several efforts to resurrect it have failed – most recently it operated as a movie theater and performance venue for Spanish-language audiences from 1996 to 1998.
It has remained closed since then.
But the Oak Cliff Foundation, the Dallas Summer Musicals Management Group and the city are behind a new renovation effort. Officials hope that some time next year, applause and laughter again will fill the theater.
"We see it as part of an economic development and revitalization project for our community," said Beverly Mendoza, president of the Oak Cliff Foundation. "We really want this to be a community draw, one that really serves a mixed urban community like we have in Dallas and particularly in Oak Cliff."
The effort began in 2000 when the Oak Cliff Foundation, the philanthropic arm of the Oak Cliff Chamber of Commerce, stepped forward to work with Dallas Summer Musicals to restore the theater.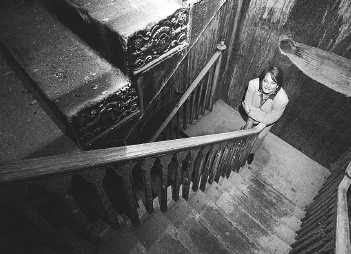 The nonprofit foundation received $1.6 million in city-administered federal funds, with the agreement that Dallas Summer Musicals manage the facility after the renovation. Since then, an additional $1 million has been raised.
Ms. Mendoza, however, noted that the foundation still needs about $1.5 million to complete the first phase.
Already, major improvements can be seen in the theater, from a steel-reinforced and expanded stage to a new electrical system and repairs to damage from a 1995 fire.
But additional millions will be needed to uncover the elegant Italian Renaissance architectural and decorative features that originally adorned the theater's interior.
"It's going to be a very nice, clean facility at first, when we open. It just won't have a lot of the restoration of the architectural elements," Ms. Mendoza said.
She said restoration is needed because of a 1965 "modernization," apparently an attempt to distance it from the stigma of being the place where Mr. Oswald was caught.
Many of the elaborate murals and architectural features, even staircase railings, were covered with stucco.
That kind of modernization work, she added, proved to be good and bad.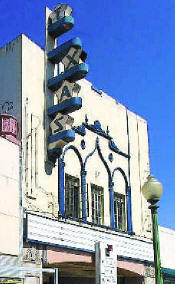 "It's hideous looking, but it really protected a lot of architectural elements from being further damaged," she said.
The current renovation has uncovered hints of interior elegance: bits of ornate wood stair railings, decorative columns and walls. Some of that will be left visible so theatergoers can see what lies beneath the stucco interior and to spur fund raising.
Michael Jenkins, president and managing director of Dallas Summer Musicals, said the Texas Theater already has generated interest in the performing arts community. He said the management group has bookings for the new facility, even though an opening date still is unknown.
Beyond that, he said, the Texas Theater provides Dallas Summer Musicals an opportunity to reach out to the community. The theater will be perfect for use as an "incubator" for diverse local performing groups, he said.
Mr. Jenkins recalled that as a child, he had seen movies at the Texas Theater. Among those was Giant.
Longtime Oak Cliff resident Troy Sherrod recalls spending many afternoons and evenings at the theater.
In the 1970s, he would go there to watch B-movies.
"It was already covered in stucco. The old joke is that they put stucco on everything but the toilets," Mr. Sherrod said. "And it was already kind of dumpy by then. The floors were not very clean, and there were pigeons flying around sometimes. But as a kid, I didn't mind it."
The first phase of the renovation will include use of only the first level, which contains 684 seats. The second phase would open the balcony with its 200 additional seats.
The project is essential to economic development in Oak Cliff, said Dallas City Council member Elba Garcia.
Dr. Garcia said the area around the theater is a bustling commercial district that has developed "with very little planning." Now, she said, the development needs to continue.
"This building is beautiful, and it means so much to so many people," Dr. Garcia said. "I'm so glad that so many people have come together for this effort."
The facility is on the verge of obtaining a certificate of occupancy from the city, Ms. Mendoza said. It could be issued as early as January.
That means office and rehearsal space will be available for use, but performances are not likely to take place for several months.
The task is daunting, especially the fund raising.
"We're such a grass-roots organization that raising that kind of money is difficult for us, but at least for now we feel we've saved the building from demolition and we're going to be able to open it up for the community and for economic development," Ms. Mendoza said.
E-mail ftrejo@dallasnews.com
---
Online at: http://www.dallasnews.com/s/dws/news/city/collin/stories/111504dnmettheater.18f43.html